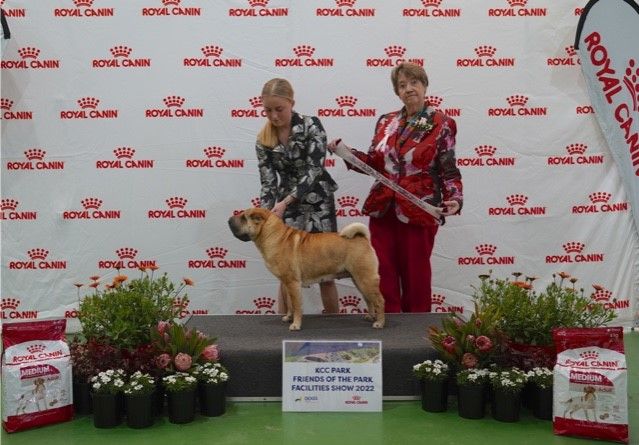 Welcome to Shangyin Shar Pei. I hope you enjoy your visit.
The photo here is Australian Champion Shangyin Taking The Town aka Roxanne
As far as the oldest domestic dog breeds go, the most ancient breeds are: the chow-chow, basenji, akita, Chinese shar-pei, Siberian husky and Alaskan malamute.
The Shar-Pei originated in China and has a history dating back 2000 years. Although the exact place of origin is unclear, statues indicate they came from somewhere in southern China, Tibet or Dah-Lel. The name Shar-Pei literally translates to mean sand skin. This is from the breed's characteristic harsh coat.
Shar-Pei were used as general utility dogs for herding and guarding. They were also known as tomb dogs, relating to the discovery in ancient tombs of 2000-year-old statues bearing their likeness. When China became a communist country, a tax was brought in that made the keeping of dogs a luxury and basically out of reach of the average farmer. In 1947 the tax was increased and breeding banned. This led to the Shar-Pei becoming an endangered breed and it was listed with the Guinness Book of Records in 1978 as the world's rarest dog.
The first registered Shar-Pei were imported into Australia in 1981 with the first litter in 1985.
24359 Visitors